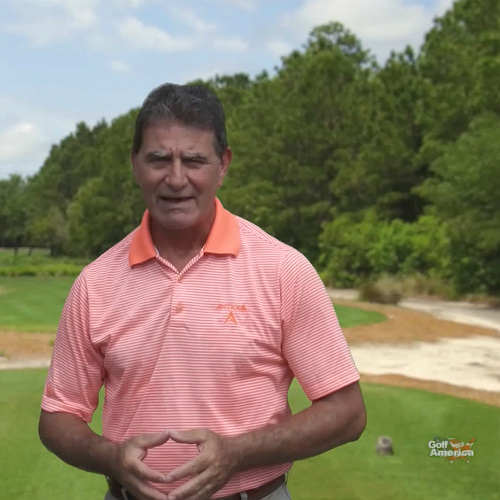 One of the top-ranked private golf courses on South Carolina's Grand Strand, The Reserve Golf Club is a standout Greg Norman track. Bordered by a nature preserve it is known for its tranquility and pristine beauty, aside from being a fair yet challenging golf course. Said Norman of his design, "While you won't have to hit straight every hole, you're always going to have to think straight."
The Golf America television program visited the course in 2019. In the following episode, host Alan Hunter reviews a few of The Reserve's signature holes and Director of Golf Donald Clement shares tips on executing a bump and run.
The program highlights four of the course's signature holes.
-- Hole number five, a par four with a tight fairway and large tree on the left-hand side, rewards the accurate versus long-hitting golfer. It's protected green requires an uphill shot.
-- Another of the course's par fours, number ten, presents a narrow fairway with water and sand hazards to the left-hand side of a smaller green.
-- Hole number twelve is a par three that features a long waste bunker running from the tee to the green complex. A pond on the left can humble an aggressive tee shot.
-- The finishing hole at The Reserve requires three excellent shots to escape the course's longest par five. A large water hazard hugs the right side of the green.
Says Hunter of the course, "The Reserve Golf Club has distinguished itself as a private golf sanctuary amongst the crowded beachfront courses of South Carolina's Grand Stand."