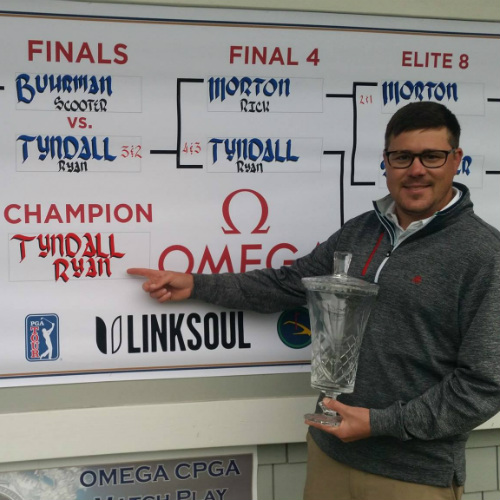 For pros at McConnell Golf, a good scorecard is a job requirement.
A few of Ryan Tyndall's fellow golf professionals jokingly said they wanted to buy him a photograph of the 17th and 18th holes at Wilmington's Eagle Point Golf Club.
Why? Because Tyndall, head golf professional at The Reserve Golf Club in Pawleys Island, S.C., never saw Eagle Point's two finishing holes while coasting to victory at the OMEGA Carolinas PGA Match Play Championship last November.
In fact, Tyndall didn't even visit Eagle Point's 16th hole until his final pairing of the Carolinas' most prestigious match play event, where he lodged a 3&2 victory over Scooter Buhrman of Champion Hills Club.
Playing in cool, wet conditions, the 33-year-old Tyndall rose from the No. 11 seed to claim the tournament's $3,000 first prize.
And bear in mind, these were no slouches Tyndall was besting. He posted 4&3 victories over a trio of the CPGA's best players — Larry George of River Landing Country Club in the opening round, Oak Island Golf Club's Steve Isley in the quarters, and Rock Creek Country Club's Rick Morton in the semis — to reach the championship tilt.
"It was awesome," says Tyndall, who attended the University of Georgia and grew up competing against current PGA Tour pros including Brian Harman, Kevin Kisner, Russell Henley, Harris English, and Hudson Swafford.
"There was no pressure because I was playing so well — I never made any mistakes. You can be very at ease when everything is going your way," he recalls.
Tyndall considers his playing performance to be an important element of his job with McConnell Golf.
"Mr. McConnell and Brian Kittler look for good players," Tyndall says. "For me, I enjoy playing, I love to compete. I try to play and support the CPGA section in every event possible. Whether it's team events or sectional championships or even taking members to Pro-Ams, I think it's important for us to make a showing."
Tyndall performed consistently well in the Carolinas PGA section events last year, claiming four top-20 finishes prior to his big win at Eagle Point, site of the 2017 Wells Fargo Championship. In last year's Carolinas Section race for the lowest scoring average, Tyndall finished tied for ninth.
Often, Tyndall says, McConnell Golf members reach out to him during the tournaments via text or social media to inquire how he's playing and wish him good luck.
"It gives the members something to talk about when we get home," Tyndall says. "They enjoy asking how you're playing and following you online, which is always fun. I think they take pride in seeing one of us — not just me but all McConnell Golf pros — play well and succeed."
Club members also enjoy knowing that their golf pro knows what they're talking about — and that they have the opportunity to not only learn from good teachers, but accomplished golfers as well.
"I believe the membership takes pride in having professionals who not only play good golf in tournaments and represent their club, but are also available to play with them on a weekly basis," says Brian Kittler, vice president of golf operations.
"You're so much more valuable to your membership if you're a good player," says Donald Clement, The Reserve's director of golf, who ranked as one of the CPGA's best players for many years. "The membership respects you because you're a club professional. They take lessons from you. If you're a good player, they understand that you can teach too. You understand the golf swing a little more if you've put your game on the line and posted some scores. Being a good player is a huge part of the job."