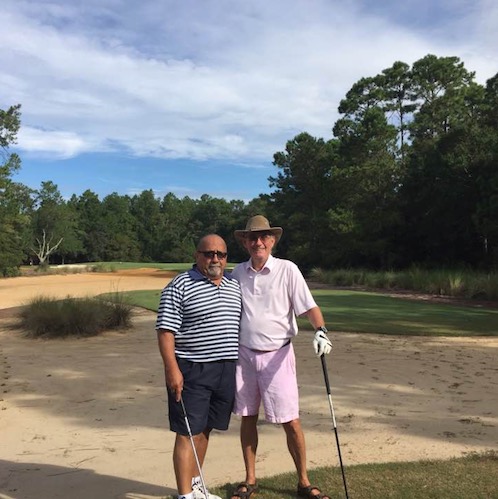 Dennis Wahl played 300 rounds of golf in 2016 - that's more than 5,400 holes!
When Dennis Wahl retired as a Vice President at Merrill Lynch, playing more golf was at the top of his to-do list. "I've been golfing since I was 30 years old and I've always had a passion for it," says Wahl, who joined The Reserve in 2012. "I was able to retire a year early, at age 64, and now I'm having the time of my life."
How do you find the time to play so often?
It helps that I'm retired, but I always played a lot even while I was working. As of this past February, I've played 44 rounds this year. And counting. I'm on pace for another 300 rounds this year. I can play 18 holes in three hours ... four hours, tops. I like that a great deal.
What part of your game have you been able to improve the most over this past year?
I've gotten better because I've played a lot. I walk 98 percent of my round. Walking has made me a better golfer. I'm in better shape. I think the game was made to be walked.
What's the most memorable round you played in 2016?
I broke eighty 58 times. I've shot 74 once or twice in 2016. This year, in February, I shot a 73. Our group shot 30 under par that day. We all shot under our handicap. It was a pretty good day. It's a lifelong goal to shoot my age. Maybe I'll get there soon.
Any heartbreaking near-misses or blooper scenarios that you'd like to share?
Not shooting 72 in that round that I shot 73! I missed two 5-footers. Could've easily been 71. That's as heartbreaking as it gets.
Who golfs with you most often? And can they keep up?
There's a group of us at The Reserve called The Wheaties, and we play once a week. We play from the tournament tees at 6,500 yards. The Reserve, from those tees, is very difficult. But everyone in this group can hit the ball. Everyone in this group has, at worst, handicaps of 12 or 14. I'm an 11. It's nice to play with these guys. Almost all of us are in our 60s or 70s.
What's your post-golf ritual?
I go into the clubhouse, have lunch or a beer. Every time I play, I eat lunch there. A member of a club needs to support their club. It's about more than just playing golf.