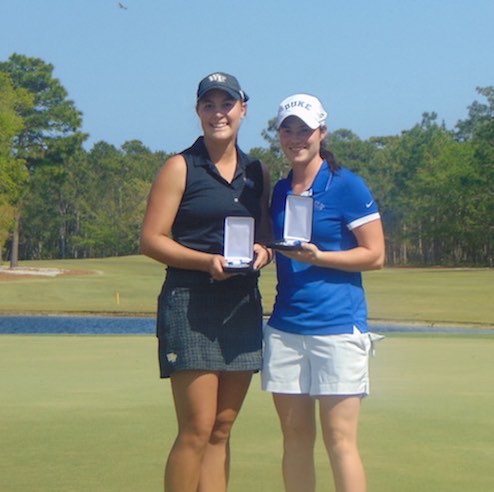 This past April two McConnell Golf properties in South Carolina hosted ACC tournaments. Duke University emerged at the top of the leaderboard for both, but according to the teams and coaches, McConnell Golf stood out as a true champion.
"The 2017 ACC Men's and Women's Golf Championships were a great success," says Kris Pierce, ACC senior associate commissioner for championships. "The ACC and our member schools are grateful for the hard work and dedication shown by McConnell Golf, Musgrove Mill Golf Club, and The Reserve Golf Club, along with all of the staff, volunteers, and club members."
The Men's Golf Championship took place at Musgrove Mill Golf Club following 15 years at Old North State Club. Meanwhile, the Women's Golf Championship was played at The Reserve Golf Club following a nine-year run at Sedgefield Country Club's Ross course.
PICTURE PERFECT WEEKEND ON PAWLEYS ISLAND

Mother Nature was much kinder at The Reserve during a beautiful Easter weekend for the Women's Championship. "It was absolutely awesome," says Donald Clement, The Reserve's director of golf. "We could not have had four better days of weather, camaraderie, and com- petition. It was a home run all week."
According to Clement, the McConnell Golf standard for course conditioning meant The Reserve's greens-keeping staff didn't need to make any adjustments to their normal routine. "We did nothing different with the golf course," he says. "The teams and coaches absolutely raved about it."
Duke won its 20th ACC title — but the first conference crown for the Lady Blue Devils since 2014. Duke's 5-under 859 total for 54 holes was the best mark, nine strokes better than Florida State. Miami was third at 874, followed by North Carolina at 876, Clemson at 877, and N.C. State at 888. The Blue Devils entered the final round leading by nine strokes. Leona Maguire, a Duke
junior ranked first in both the Golfstat collegiate rankings and Women's World Amateur Golf Ranking, was the individual winner for the second time in three years. Maguire posted a 6-under 210 to edge out Wake Forest's Jennifer Kupcho (212) and Miami's Delfina Acosta (213) for the title. The Blue Devils earned their 19th ACC title under veteran coach Dan Brooks. It was the 16th time that Duke won the team title and had the medalist.
The Reserve member Ellen Miller served as volunteer chairperson for the Women's Golf Championship. Miller said she was so proud of her fellow members and friends who contributed their time during the event.
"The really cool thing is that I have received seven handwritten thank-you notes from ACC coaches and players, thanking us for the terrific experience and our warm hospitality," says Miller. "It was just so much fun."